Please claim your prize here. Dr. Evil would like that.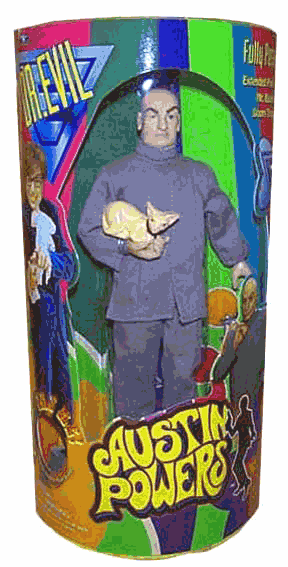 (Description of Doll. Please read on.)

You are looking down on "Dr. Evil" a 9" Talking Doll. Dr. Evil is fully poseable with extended Pinky Finger, Mr. Bigglesworth, Doom Transmitter & Pistol 1998 Edition. VERY RARE AND HARD TO FIND. This doll has Never Been Removed From the Box and is in Mint Condition. This Talking Doll "Dr. Evil Say's these Phrases "Throw Me a Friggin' Bone Here". "I'm the Boss, need the info." "Evil Laugh"! This Austin Powers Doll comes to you Mint in Box,and never removed from box, smoke free and pet free environment. Shipping and Handling is $8.00 in the U.S. Will ship internationally. Payments accepted, Money Order ships right away, Personal check ships after it clears, Credit Cards and Bidpay are accepted. I DO NOT ACCEPT PAYPAL. Canada POSTAL Money order or Bidpay Only. Please Note: Not available for pickup, Mail Order Only. Happy Bidding on this Special Edition.
I'm sorry no free prize you have to pay for it. By the way we ran out of Dr. Evil Dolls the first week they were so popular. The Chinese merchant refuses to make us anymore and we have no more. I have seen some on ebay for sale, please go there.