Hello Hydrogen Garage clients & associates,
Endurance • Performance • Longevity
Why support & buy bottled water companies (most owned by Oil Corp.s or Corporate America that could care less about your heatlh) when you can have a micor clustered, structured water machine at home? Fill up your own water bottle, one for the entire family, and live in health and feel great!
• Hydrates your cells better than bottled water
• Absorbs 10 times faster than regular water
• Increases stamina & endurance
• Gives you more energy
• Helps offset buildup of lactic acid
• Is filled with powerful antioxidants
• Is 100% Natural, with zero calories
• You can make it at home instantly
• Has been in widespread use in Japan for 37 years
• Helps flush toxins out of your body
• Speeds up healing and shortens injury recovery time
So get ready for a simple change that is GUARANTEED to increase
your endurance and performance.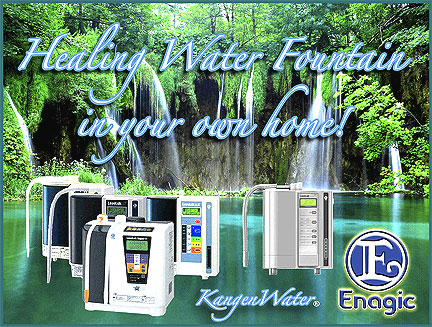 Click here! : http://waterpoweredcar.com/kangen/
My trusted and very knowledgeable friend Eric Windheim helped
me discover this Japanese technology and get a better unit
than I could find on the internet and at a lower price.
He even found one for me that was "Tax Deductible".
I can't say enough good things about this special
water technology or Eric Windheim.
Wishing you wellness!
Andrew Batty, owner Hydrogen Garage LLC. &
Eric Windheim Cellular Hydration Specialist
916-395-7336 e.windheim@comcast.net
Water Powered Drinking Machine
c/o Hydrogen Garage LLC
Kangen® Water Distributor
630 Quintana Road #125
Morro Bay, CA 93442 • USA
(805) 995-4809 • (805)772-7324
Andrew - info@waterpoweredcar.com
-----
PS If you want off our customer base, just reply in the subject line "remove"